In farming business there is concern about the increasing weight and 'footprint' of agricultural machinery and how these factors impact on the ground. Healthy soil consists of earth, water, air and other organic matter. Air is essential for many of the microorganisms that release plant nutrients and when soil is packed down, these nutrients can't be released and the soil's ability to hold water is decreased. The resulting hard packed soil resists root penetration which can ultimately restrict the growth and health of the plant above the soil.
Soil compaction is a crucial factor in farming and it needs to be kept to a minimum. Using the right tyres in the right way helps to reduce soil compaction by reducing pressure placed on soil.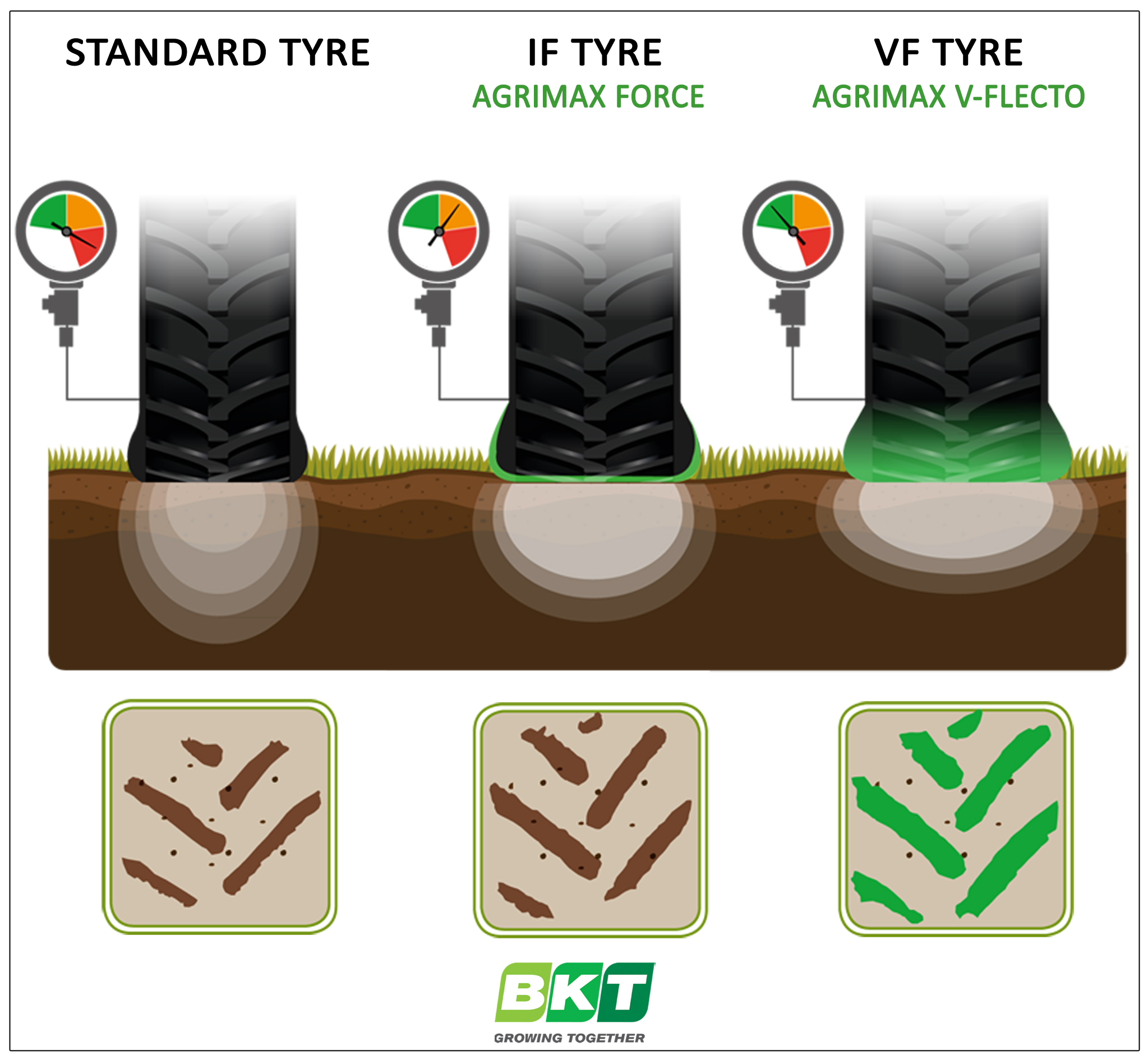 IF Tyres:
The IF in IF Tyres stands for "Increased Flexion": IF TYRES have increased flexibility in the sidewall when compared to standard radial tyres. IF tyres will carry 20% heavier loads in comparison to identical sized standard radial tyres. Another way of looking at it is that IF tyres can carry the same load as standard tyres, but at 20% less inflated pressure.
IF technology guarantees a limited impact of the machinery on the ground, ensuring the well-being of the soil. IF technology, reinterpreted by BKT, allows the machinery to enjoy a wider tyre footprint to achieve a high flotation capacity and an even distribution of loads at low pressures. These are measures that make it possible to significantly reduce soil compaction, ensuring a better water drainage and an increase in the air passage in order to provide the crop roots with all the necessary moisture and nutrients for their growth.
In addition, the tread design of the IF tyre improves driving efficiency by reducing transport cycles and maximizing field works thanks to the excellent traction that increases the yield per hectare. And all this without the need to change the tyre pressure, which ensures effective time savings.
VF Tyres:
The VF in VF Tyres stands for "Very High Flexion": VF TYRES have very increased or high flexibility in the sidewall when compared to standard radial tyres. VF tyres will carry 40% heavier loads in comparison to identical sized standard radial tyres.
VF (Very High Flexion) essentially means that the tyre can flex more. VF tyres are made from a special compound which means the sidewalls can flex. To do this, VF tyres need extra strong casings which allows them to flex in the right place, close to the tyre tread rather than the bead. With this flexing, the tyre footprint grows which effectively spreads the load over a greater area and reduces the possibility of soil compaction.
The structural construction of VF tyres means they can run at much lower inflated tyre pressures than standard tyres. The increased footprint has other benefits too. The larger contact area gives better traction,and this reduction in slippage boosts efficiency overall, reducing fuel consumption, driver hours and time spent in the field. All these benefits combined make VF tyres a smart choice.
IF and VF tyres are ideally suited for high-power tractors with greather than 200HP. They are also available in some sizes suitable for trailers.
To view IF tyre options, click .
To view VF tyre options, click
For more information about IF and VF tyres, call us on +353 429 666 444 or email sales@agrigear.ie.